Perkins Generators in Saudi Arabia
We offer you the best designs for Perkins electric generators, with Stamford – Meccalte – Leroy Somer alternators with the best DSE generator control panels.
Perkins engines in the Kingdom are known for their good reputation, availability of spare parts, few breakdowns, efficiency, and the availability of many trained technicians, besides that, Perkins is characterized by the availability of service centers distributed in the Kingdom.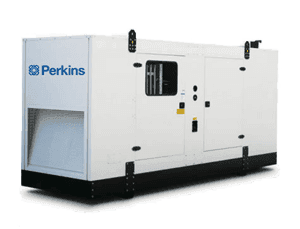 Perkins engines have a wide range of power that starts from 20 kVA up to 650 kVA
With rotational speeds from 1500 rpm to 1800 rpm to cover business requirements from 50 Hz to 60 Hz.
Perkins engines carry a one-year warranty or 1,000 working hours (whichever comes first) with authorized dealers in the Kingdom and all over the world against manufacturing defects
Standby
Prime
Alternator Type
Dimensions (LxWxH)(mm)
Set
Engine Model
Engine Origin
Kva
Kw
Kva
Kw
TAL / LSA
Meccalte
Open Type
Close Type
Catalogs
TP-20
404D-22G
UK
26.6
21.3
24.2
19.3
040F / 40M5
ECP28-1L/4
1510x630x1100 (485kg)
1900x900x1450 (540kg)
CATALOG
TP-30
1103A-33G
UK
38.2
30.6
34.9
27.9
042C / 42.3VS3
ECP28-VL/4
1710x770x1250 (772kg)
2050x960x1600 (850kg)
CATALOG
TP-45
1103A-33TG1
UK
58.7
46.9
53.1
42.5
042F / 42.3 M7
ECO32-3S/4
1710x770x1250 (841kg)
2050x960x1600 (900kg)
CATALOG
TP-60
1103A-33TG2
UK
75.1
60.1
68.1
54.5
042H / 42.3 L9
ECO32-2L/4
1710x770x1250 (882kg)
2050x960x1600 (920kg)
CATALOG
TP-80
1104A-44TG2
UK
100.3
80.3
91.3
73
044B / 43.2 L8
ECP34-1S/4
1910x770x1250 (960kg)
2270x1080x1610 (1150kg)
CATALOG
TP-100
1104C-44TAG2
UK
126.5
101.2
114.4
91.5
044D / 43.2 S5
ECP34-2S/4
2050x770x1250 (1200kg)
2270x1080x1610 (1340kg)
CATALOG
TP-135
1106A-70TG1
UK
169
135
152
122
044H / 443 M8
2500x770x1410 (1250kg)
3200x1080x1750 (1700kg)
CATALOG
TP-150
1106A-70TAG2
UK
188
150
169
135
044J / 46.2 M3
ECP34-1L/4
2500x770x1410 (1250kg)
3200x1080x1750 (1700kg)
CATALOG
TP-180
1106A-70TAG3
UK
218.8
175
196.9
157.5
046A / 46.2M3
ECO38-2SN
2860x990x1690 (1380kg)
3400x1080x1880 (1950kg)
CATALOG
TP-338
1506A-E88TAG5
USA
375
300
338
270
046F/46.2VL12
–
3300x1100x1850 (2755kg)
4130x1430x2100 (3400kg)
CATALOG
TP-350
2206A-E13TAG2
USA
438
350
400
320
046H / 47.2VS2
–
3400x1140x2000 (3150kg)
4740x1600x2370 (3400kg)
CATALOG
TP-450
2506A-E15TAG1
USA
563
450
500
400
047A / 47.2M7
–
3750x1140x2000 (3750kg)
5070x1600x2340 (4700kg)
CATALOG
TP-600
2806A-E18TAG1A
USA
687
550
625
500
047E / 47.2L9
–
3750x1540x2260 (3760kg)
5530x1980x2460 (5300kg)
CATALOG
TP-681
2806A-E18TAG3
USA
750
600
681
545
047F / 49.1 S4
3750x1540x2260 (4760kg)
6100x2440x2590 (5700kg)
CATALOG