Cummins Generators in Saudi Arabia
We offer you the best designs for Cummins electric generators, with Stamford – Meccalte – Leroy Somer alternators, with the best DSE generator control panels.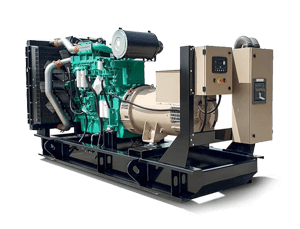 Cummins engines in the Kingdom are known for their good reputation, availability of spare parts, few breakdowns, efficiency, and the availability of many trained technicians, besides that, Cummins is characterized by the availability of service centers distributed in the Kingdom.
Cummins engines have a wide range of power that starts from 10 kVA up to 1500 kVA, With rotational speeds from 1500 rpm to 1800 rpm to cover business requirements from 50 Hz to 60 Hz.
Cummins Generator warranty: two years or 2,000 working hours (whichever comes first) with authorized dealers in the Kingdom against manufacturing defects.
Stand-by
Prime
Gen-Set
Engine Model
Engine Origin
kVA
kW
kVA
kW
Alternator Type
Catalogs
CT150
6BTAA5.9-G6
INDIA
163
130.4
148
118.4
TAL044J
Catalog
CT225
QSB7-G5
INDIA
250
200
224
179.2
TAL046D
Catalog
CT290
QSL9-G3
INDIA
320
256
290
232
TAL046F
Catalog
CT345
QSL9-G5
INDIA
380
304
345
276
TAL046H
Catalog
CT395
NTA855-G3
INDIA
441
352.8
395
316
TAL047A
Catalog
CT450
QSX15-G8
USA
489
391.2
449
359.2
TAL047C
Catalog
CT450
QSZ13-G7
CHINA
500
400
450
360
TAL047A
Catalog
CT510
QSZ13-G5
CHINA
570
456
512
409.6
TAL047C
Catalog
CT680
VTA28-G5
INDIA
750
600
680
544
TAL047F
Catalog
CT920
QSK23-G3
INDIA
1011
808.8
918
734.4
TAL049E
Catalog
CT1150
QST30-G4
USA
1275
1020
1150
920
LSA50.2 M6
Catalog
CT1155
KTA38-G4
INDIA
1266
1012.8
1155
924
LSA50.2 M6
Catalog
CT1410
KTA50-G3
INDIA
1586
1268.8
1413
1130.4
LSA50.2L8
Catalog
CT1615
KTA50-G9
INDIA
1800
1440
1615
1292
LSA50.2L8
Catalog
CT3125
QSK78-G8
INDIA
3438
2750
3125
2500
LSA53.2M9
Catalog