مولد كهرباء جوندير الامريكي 30 – 36 كيلو فولت امبير
مولد كهرباء جوندير
تتمتع شركة جوندير الامريكية بسجل حافل لا مثيل له لتوفير محركات موثوقة وقوية وفعالة لن تخذلك ، حتى في الظروف القاسية للغاية. يمكنك الاعتماد على محرك جوندير  للأداء المتواصل ، والمتانة ، واقتصاد الوقود. بنيت هذه المحركات لتحمل المهام الشاقة و لمناخنا القاسي.
مولد كهربائي موديل: DT30 (مع كاتم للصوت)




3 فاز, 60 هيرتز, 380 فولت على 220 فولت, 1800 دورة في الدقيقة


القدرة الاحتياطية:

35.5 

كيلو فولت امبير / 28.4 كيلو واط


القدرة الرئيسية: 31.3 كيلو فولت أمبير / 25.04 كيلو واط




يتألف من:


محرك جوندير موديل

3029DFU29

, عدد السلندرات 4
المولد لوروي سومر

TAL042C 

(صناعة اوروبية)


لوحة التحكم ديبسي (صناعة بريطانية)




كاتم للصوت, خزان ديزل يومي, البطاريات, زر الطوارئ.
تمثل التصنيفات أعلاه قدرة مجموعة التوليد المضمونة ضمن ± 3٪ في الظروف المرجعية المكافئة لتلك المحددة في معيار ISO 8528/1.
ملاحظات
نطاق الجهد المطبق هو 220 فولت ، 380 فولت إلى 480 فولت لتطبيقات 60 هرتز. بالنسبة للجهود الأخرى ، يرجى استشارة المصنع.
مجموعة المولدات هذه ذات سرعة ثابتة 1800 دورة في الدقيقة.
DT30 هو تصنيف الطاقة الرئيسي لمجموعة التوليد حيث يتم تطبيق الحمل المتغير والاستخدام غير المحدود للساعة بمعامل حمولة متوسط 80٪ من التصنيف الأساسي خلال كل فترة 24 ساعة. مع العلم أن الحمل الزائد بنسبة 10٪ مسموح به لمدة ساعة واحدة في كل عملية تستغرق 12 ساعة.
DT36 هو تصنيف الطاقة الاحتياطية لمجموعة التوليد حيث يتم تطبيق حمل متغير يقتصر على الاستخدام السنوي حتى 500 ساعة ، مع 300 ساعة قد تكون قيد التشغيل المستمر. مشيرا إلى أنه لا يسمح الزائد.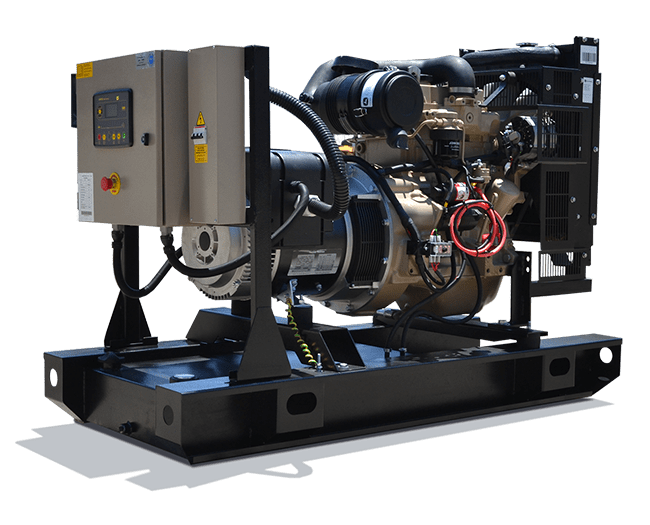 Engine Technical Data
Make & Series Model / GSPU
JOHN DEERE 3029DF129 / 3029DFU29
Cylinders & Arrangement
3; vertical in-line
Bore & Stroke (mm)
106 x 110
Induction system
Naturally aspirated
Combustion
Direct injection
Cycle
4 stroke
Compression ratio
17.2:1
Cooling System
Water-cooled
Displacement
2.9 liters
Lube oil capacity
6.0 liters Max
Coolant capacity
5.7 liters
Standard governor (Optional)
Mechanical (Electronic)
Engine Speed
1800 rpm
Fuel & Oil Consumption
Fuel Cons.
Oil Cons.
Consumption @ 100% Load (L/H)
8.0
0.021
Consumption @ 75% Load (L/H)
6.4
0.017
Consumption @ 50% Load (L/H)
4.5
0.012
Consumption @ 25% Load (L/H)
2.7
0.007
Radiator Cooling Air Flow (m3/s)
2.4
Emissions regulations
For non-regulated territories
Exhaust temperature ᵒC (max)
570
Max exhaust gas flow (m3/min)
6.1
Max. allowed back pressure (kPa)
7.5
The above performance data are valid as per the following specs:
Diesel Fuel is according to BS2869 Class A2 or equivalent.
Lubricating oil is according to Grade SAE 15W-40 API CI4.
The coolant should be 50% antifreeze and 50% freshwater.
Alternator Technical Data
Make & Model
Leroy Somer TAL042C
Frequency / No. of poles
60Hz / 4P
Ingress protection
IP23
Insulation class
H
Terminals (Optional)
6 (12)
Excitation system
SHUNT
Winding pitch
2/3
AVR model
R120
Overspeed
2250 R.P.M.
Voltage regulation
± 1 %
coolant airflow
0.13 m3/s
Certification
The complete generating set is type-tested according to ISO 8528-8 standard.
Control Panel Specifications
GMP260MKIII (DSE6110 MKIII) panel is an automatic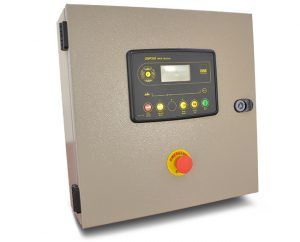 start generating set panel of microprocessor-based
the design which is capable of interfacing with
the electronic engines through the can-bus J1939. It is
fully configurable by PC software, yet most settings
can be programmed by front fascia buttons. If
Mains voltage is to be monitored, DSE6120MKIII
can be offered.
Circuit Breaker Schneider or ABB, 3 Pole MCB (4
Pole available as Optional)
Construction
Sheet Fabrication
CNC shearing & bending
Paint type
Heat-treated powder-coated
Paint application
Electrostatic corona spraying
Durability tests

§  IMPACT [EN ISO 6272]

§  Salt spray resistance [ASTM B117-73]

§  Humidity Resistance [ASTM D2247]

Compliance

§  Panel is compliant with [ISO8528-8]

§  Clearance & Creepage [IEC60355-1]

§  Leakage current & Dielectric strength [IEC60355-1]

§  Protection against electric shock [IEC600 364-4-41]

Degree of protection
IP55
Wire crimping

§  Crimping force up to 20KN

§  Accuracy of 0.01mm

§  Each crimping is checked by Komax CFA+

Wire coding

§  Wires are coded by wire color and cross-section

§  Wires are coded by printed numbers

§  Wires are coded by the printed function of the wire
Protection (standard)
(OPTIONAL

 

Note 1,3

)
Control (standard)
(OPTIONAL

  Note 1

)
Instrumentation (standard)
(OPTIONAL

 Note 1,3

)
Over /Under AC Voltage
High Oil Temperature
Remote Start Input
Battery Charger: 5A, 10A, UL
Gen AC Voltage: 3ph VLL & VLN
Lube Oil Temperature
Over /Under Frequency
High Exhaust Temperature
Emergency Stop Button
Fuel Pump Control
Gen Frequency: Hz
Exhaust Temperature
Delayed Over Current
Low Fuel Pressure
Common Alarm Volt-Free Contact
Extension:
Gen Current: 3 phase A
Engine Inlet air (Boost) pressure
Short-circuit
Low Coolant Pressure
Event Log (100 Events)
Ethernet-Modbus TCP
Power: KW, KVA, KVAR & PF
Charging Ammeter
Over KW
Low Fuel Level
Weekly Exerciser
RS485-  Modbus RTU
Energy: KWhr, KVAhr, KVARhr
Fuel pressure
High Engine Temperature
Low Oil Level
Audible Alarm
GPS Tracker
Lube Oil Pressure
Coolant Pressure
Low Oil Pressure
High winding temperature
Standard CANbus J1939
Water in Fuel Detection
Engine Coolant Temperature
Fuel level
Maintenance Alarm
High Bearing Temperature
Pre/Post Heat Control
Website Applications
Battery DC Voltage
Lube Oil Level
High/Low Battery Voltage
Low Boost Pressure
Data Logging
SNMP Gateway
DC Alternator
Winding temperature 3xRTD
Low coolant level (Note 2)
Fusible Link Fire Protection
PLC Editor
Inputs: 20mA, 10V
Engine Speed
Bearing Temperature RTD
3 ph Mains Sensing (6120)
Low Coolant Temperature
Oil Level Control
Thermocouples
Operating Hours
Tier 4 Support
Note 1: some OPTIONAL features could be standard if CANbus is established within electronic engines.
Note 2: Low coolant level protection is a standard feature for Gensets above 200KVA, otherwise it is optional.
Note 3: There is a limitation in the number of protections and measurements that can be offered with GMP260MK.
Other types of control Panels & Modules can be offered according to required specifications (DSE 7310/20, 7410/20, 8610, 8810, and Others).
Certification
The control panel is certified by an ISO17025 accredited laboratory to have IP55 according to IEC60355
Genset Standard Features
Assembly:
Gensets are assembled in Saudi Arabia in compliance with ISO 8528 standard.
Fabrication:
– The engine/alternator assembly rests on skid with Anti-vibration mounting pads.
– The skid is made up of durable sheet metals and beams exceeding "Vibration & Torsion" Resistance Norms.
– A skid-mounted fuel tank is supplied with fuel gauge, filler cap, fuel inlet, and outlet hoses.
– The control panel enclosure is made up of reliable metal sheets.
Paint:
-The skid and control panel enclosure is painted with heat-treated and power-coated electrostatic corona spraying.
– Paints passed durability tests conforming to international quality standards.
– Impact (EN ISO 6272)
– Salt Spray Resistance (ASTM B117-73)
– Humidity Resistance (ASTM D2247)
Works-Testing:
– All Gensets are tested prior to dispatch.
– The test is automatically generated and checked according to ISO8528
– A test certificate is issued for each Genset
Equipment:
– Water-cooled Radiator with a belt-driven blower fan and full guarding
– Electric starter with solenoid Relay
– Battery Charging Alternator
– Energized to run solenoid
– Replaceable fuel, oil, and air filters
– Heavy-duty leads acid battery with matching capacity (Amps & CCA)
– One loose supplied industrial exhaust silencer – 16 DB noise reduction level.
– Integral Fuel Tank with 117 L capacity.
Documentation:
– User Manual for Operation, Installation and Maintenance guidance
– Wiring Diagram.
– Test Report
– Maintenance Schedule
– Catalogs for Engine, Alternator & AVR
Genset Optional Features
Manual & Automatic Transfer Switches,
Synchronizing & Totalizing Panels
Fuel water separator
Water jacket heater
Oil heater
Fuel heater
Battery heater
Anti-condensation heater
Air Shut-off Valve
Oil Sampler
Pre-lube Oil Pump